The Manoir of Paris
Posted on
April 18, 2014
by
Andreas
in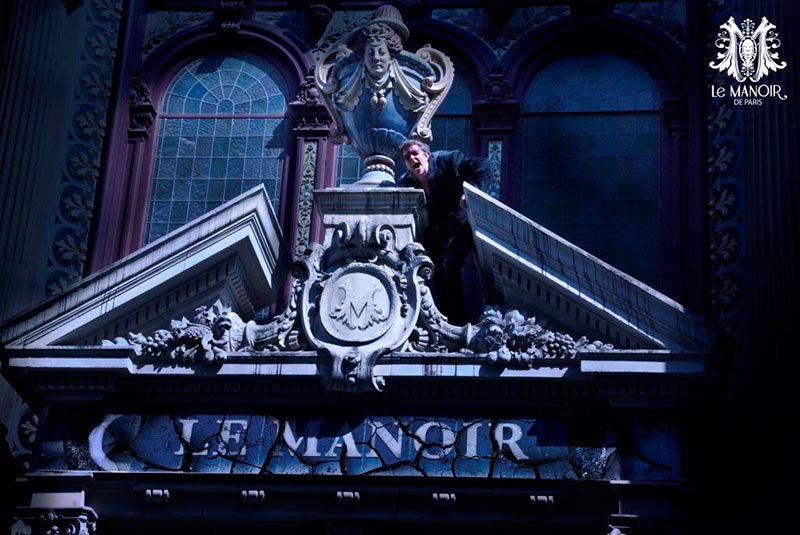 Who has not dreamed of visiting a real haunted house? A house filled with all the monsters that hid under our beds when we were children or made us scream watching television …
Well this house is in Paris! And I'm not talking about a fairground attraction made out of cardboard, but a real immersion in the heart of over 1000m2 filled with Hollywood sets and monsters played by more than 30 actors, who will recreate for you the spinechilling legends of Paris …
This project was created by an American, Adil Houthi, who has already set up two haunted houses in the United States. He decided to revitalise an abandoned place in the capital: the old pottery shops in Choisy-le-Roy, located in the 10th district of Paris, Gare de l'Est neighbourhood.
Opened in 2011, the principle is based on the recreation and discovery of the greatest and scariest legends of Paris through a tour, which is not for the faint of heart. At the opening, there were 13 "legend attractions" to discover, many of which you will have heard of…
13 legends of the Manoir de Paris:
The Paris Catacombs
The Crocodile from the Paris Sewers
The Phantom of the Opera
The Prison of the Iron Mask
The Vampires Cave
The Paris Underground
The Père-Lachaise Cemetery
The Phantom of the Tuileries Gardens
The Alchemist's Library
The Murderous Pastry Chef
The Assassins Cabaret
Gargoyles and Chimeras
The Hunchback of Notre-Dame
Since its opening, new attractions/discoveries of legends have been added:
The Desecrated Graves of Sergeant Bertrand
La Voisin (Catherine Deshaye) – Poisoner and Witch
The Murderous Barber
Guillotine
This tour may sometimes be replaced by a "special" tour, as was the case in 2013 during Halloween.
Do you dare enter the Manoir of Paris?
Useful information:
The Manoir de Paris is situated at 18 rue de Paradis, 75010 Paris.
Opening hours:
Friday from 6 p.m. to 10 p.m.
Saturday and Sunday from 3 p.m. to 7 p.m.