The international market of Rungis
Posted on
April 15, 2014
by
Hailey
in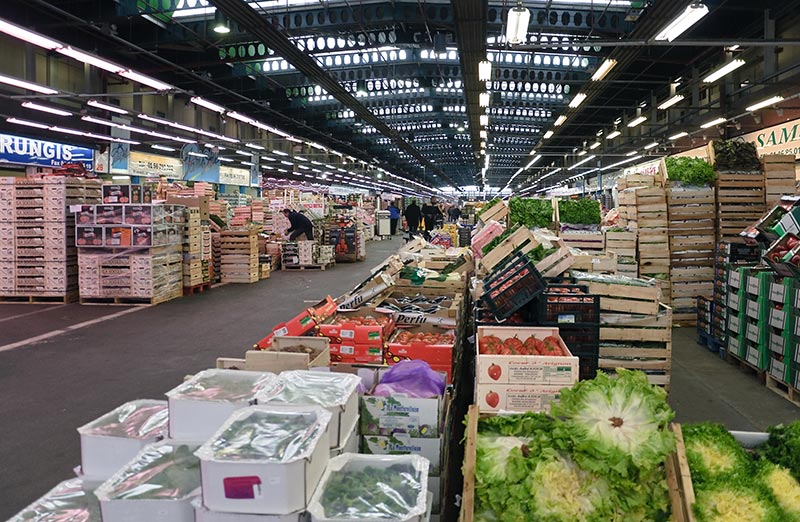 Rungis is situated about ten kilometres from Paris, in Val de Marne, and is joint headquarters (with those of Chevilly-Larue and Fresnes) of the world's largest market for fresh food products. The amalgamation of the former Halles market in Paris and the slaughterhouses of La Villette (which joined the Rungis site several years after its opening, in 1975) resulted in the National Interest Market of Rungis which opened on 3 March 1969.
This decision had been made ten years earlier by General de Gaulle due to lack of space that was increasingly felt but also to create a new more functional, modern and accessible market at the crossroads of several means of transport: by air from the Orly airport nearby, road and even rail to facilitate the supply of the market with food from all over Europe and Morocco. The relocation dubbed the "move of the century" took place over several days, from 27 February to 1 March 1969.
The international market of Rungis is above all the largest wholesaler of French catering professionals: fishmongers, cheesemakers, delicatessen trade, grocers, organic market, etc. It has over 500 product lines! Rungis market is also open to traders from Paris.
The market opens very early. From 2 a.m. the fresh catch section, where you can buy products from the sea, will already be operational, and the other sections open gradually thereafter: 3 a.m. for meat products (tripe, beef, poultry and others), 4 a.m. for cut flowers, 5 a.m. for dairy products and potted plants and finally the latest at 5:30 a.m. for fruits and vegetables and other products.
Most stalls are emptied in a few hours, at 11 a.m. most close although they are empty long before, with a few exceptions such as the dairy section which closes at 1 p.m. Rungis Market is a market that operates mainly at night, this is the main time when the goods are received and checks will take place.
The central market of Paris covers over 232 hectares but this large space is reserved for professionals only (except the second Friday of each month where visits are organised from 5 a.m. to 8 a.m. for individuals) or at least it was, because now if you are in the Paris region you restock with products from this market through the online shopping site that offers different products from the Rungis stalls. So please make the most of this opportunity during your stay in the capital.