Top 3 Cocktail Bars in Paris
Posted on
July 22, 2014
by
Andreas
in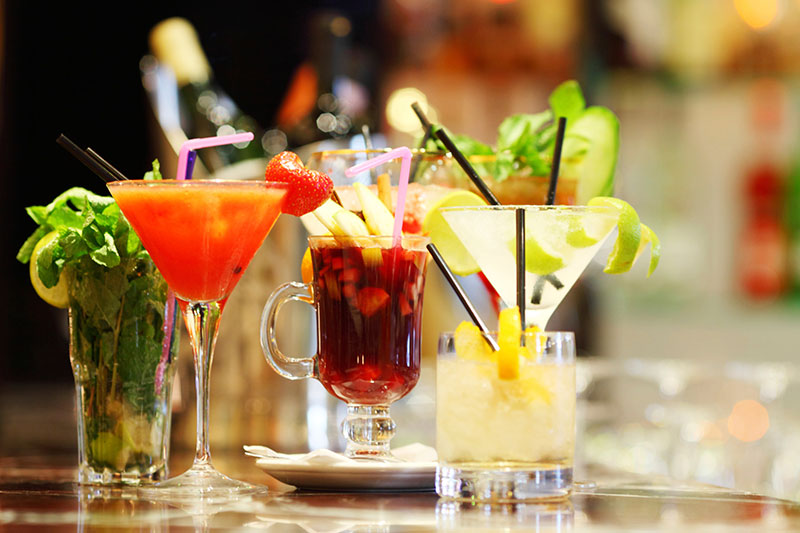 Of all the must-know addresses in Paris, we had to write you a short list of our favourite cocktail bars! Mixology bars are invading the capital city, which means you can sample 1,001 cocktails crafted from liquors and spirits. Whether you are a veteran night owl or simply enjoy great flavour combinations, you are about to discover the secrets of Parisian bars!
1. Dirty Dick (Paris' second tiki bar)
Our undisputed favourite, the new Dirty Dick is a bar whose menu is as crazy as its décor! A lush ambiance straight out of Polynesia or Hawaii and psychedelic paintings of coconut trees, sunsets and pin-up girls on the beach! The furnishings are heavy on Polynesian totem poles, bamboo stools, coloured lights and even plants and fish tanks! The lowdown: throw on a Hawaiian shirt, sandals and a lei and prepare yourself for an exotic evening! What about the cocktails? Because we are all about the drink, we can assure you that their cocktails are delicious! Leaning heavily toward rum and fruit, there are over 20 different cocktails that draw inspiration from more or less everywhere (Mexico, Florida, Brazil, etc.). Will you be tempted by the Zombie or a Cannibal's Dilemma? Don't ask us what is in them – that is up to you to discover!
2. Le Coq
When you step into the lair of Le Coq, you enter a totally different world! Here you are plunged head-first into the 1970s! With a hyper-trendy retro chic style, the three business partners (Tony Conigliaro, Thierry Daniel and Eric Fossard) offer you an assortment of molecular cocktails made from French spirits: Ambrette Liqueur, Chartreuse and even Peychaud's Bitters will infuse your favourite cocktails with new flavours! The careful décor creates a cosy ambiance with exposed stone walls, filtered light and art exhibits featuring works with '70s appeal! Here, cocktails are a science and the three owners are genuine masters.
Discover their website here (in french)
3. Expérimental Cocktail Club
Expérimental Cocktail Club: we say yes, yes and YES! And with good reason: nestled in an alley in the Montorgueil neighbourhood, this bar owned by three friends opened five years ago as a forerunner to the mixology bars cropping up today. It is as inviting as it is intriguing with red brick, exposed beams and candles on every table. The cosy, muted atmosphere and soft lighting are the perfect setting to admire the vintage looks of the servers (think suspenders and jackets) as you sip delicious cocktails crafted from fresh fruit juice, spices and rare spirits. The menu is original and changes often, so you can expect to constantly discover new flavours. If you love old-school ambiance, this is the place for you!